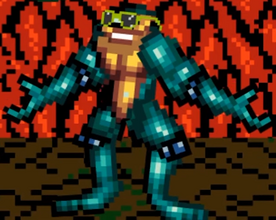 Rash was a character who appeared in Battle Boys.He was Bomberman's red hand toad. He was telling jokes to his friend Pimple, and he has two guns to aim at Mega Man, when Mega Man calls Rush by hiding in the bush. Rash argues with Pimple, Pimple was shot by Mega Man, and his two guns was shot by Mega Man. He tries to tell Mega Man where the Bomberman is, and he tells him to take those cars. If he was toast, he was killed by Mega Man, and his powers where tooken by Mega Man.
Ad blocker interference detected!
Wikia is a free-to-use site that makes money from advertising. We have a modified experience for viewers using ad blockers

Wikia is not accessible if you've made further modifications. Remove the custom ad blocker rule(s) and the page will load as expected.