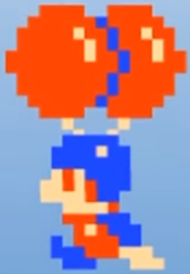 Balloon Fighter was a character who flies in the sky in Top Balloon. He was one of the charecters that Mega Man had to hunt down to complete his mission. He was able to survive a barrage of missles from Mega Man, only to have Mega Man jump out of his plane and knock Balloon Fighter down to his demise.
Ad blocker interference detected!
Wikia is a free-to-use site that makes money from advertising. We have a modified experience for viewers using ad blockers

Wikia is not accessible if you've made further modifications. Remove the custom ad blocker rule(s) and the page will load as expected.